Explore, experience and learn with the support of an all women's group led by experienced and certified women guides. We work to create a supportive and fun environment where you can try new things, expand your skills and push your boundaries.  The goal of our programs are to educate and empower you through outdoor pursuits.
Whatever your experience level may be, we invite you to join us to continue your learning and exploring.  From entry level programs to taking on big mountains in far off places, our program offers singular experiences as well as a pathway to reach your goals.
Families and Groups
We can accommodate family and groups up 10 people from the first timer to the experienced at a variety of single pitch climbing venues throughout the region.
We keep these days light and fun for an enjoyable day.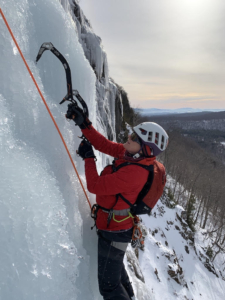 Laurie Watt
Director of Women's Programs
Laurie has been the director of Woman's programs and a year round guide for MMG for the last three years. She guides on Rock, Ice, and Alpine terrain. She has a special gift for making all her guests feel empowered and accomplished every single day. To get in touch with Laurie: email [email protected]
Mooney Mountain Guides